Obama - Are You Really Better Off? Real Jobless Decline or Increase?
Yes, 96,000 American jobs were added in August, which Obama admin appraises
as a drop in unemployment, but when one figures in the 368,000
who stopped looking for work , the unemployment rate really rises to 8.4%, according
to the US Bureau of Labor Statistic and Daily Mail.Most, mainstream media, like the
Obama administration has not reported the full facts.
The 69.9 per cent labor force participation rate for men is at lowest level recorded
since the US government began tracking it in 1948 According to James Pethokoukis of the American Enterprise Institute, the unemployment
rate would be 11.2 per cent if the labour force participation rate had remained what it
was when Obama took office in January 2009. The U.S. Labour Department also said that
41,000 fewer jobs were created in June and July than previously reported.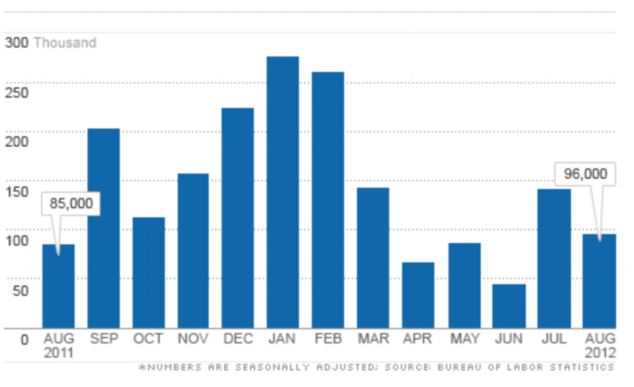 President Barack Obama was made aware of the figures before he took the stage to deliver
his prime-time address at the Democratic convention on Thursday night, which
could account for his sometimes grim demeanour as he spoke, according to Daily Mail
Obama's address came at Democratic Convention thrusday, Sept 6, which was switched from a
74,000-seater stadium to a 20,000-seater arena
ostensibly because of the weather but amid indications there were problems filling seats,
brought the three-day democratic convention to a close.
A 'phantom' roll call early in Thursday's proceedings to put back 'God' and pro-Israel sentiment
in the protocol after political pressure, took three votes, all of which appeared to show
anti-God sentiment in the majority - not the two-thirds 'pro-go ' majority needed.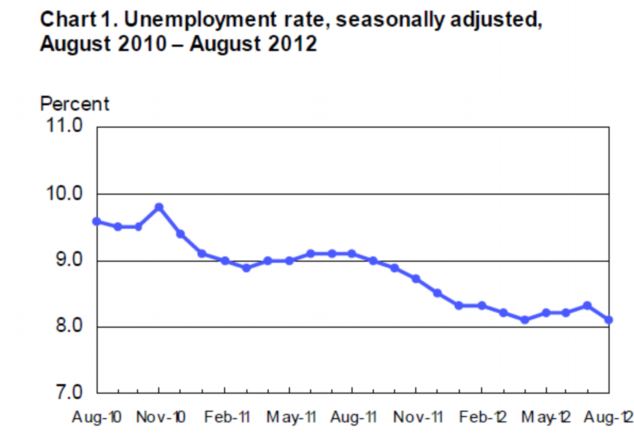 Read more: http://www.dailymail.co.uk/news/article-2199815/Obamas-DNC-2012-speech-Bleak-unemployment-numbers-morning-Obama-tells-DNC-problems-solved.html#ixzz25ogxXfT6
Stalling: The growth of new jobs has taken a significant dip compared to the beginning of the year
Hourly pay fell

386,ooo dropped out of labor force,
meaning 96,000 fewer working is meaningingless

96 mill men working is the lowest since 1948
23 months in a row with unemployment above 8 %.
Remember admin promised that if we passed stimulus bill
unemployment would be in the 5%
23 mil underemployed
when you add in those who ga e up, it would be 14%
= 14% of people not working
Obama and media only tell you that the unemployment is down
without looking at these other important factors...
'No amount of data can help you understand'- Mrs Obama tues nite speech
Obama - Are You Really Better Off? Real Jobless Decline or Increase?